At the pulse of the city
In the heart of West Berlin in Charlottenburg
Louisa's Place is located in the centre of Berlin, in the district of Charlottenburg.
Thanks to its central location, our hotel is not far from world-famous sights, cultural attractions, the Berlin Olympic Stadium and the Berlin Messe convention grounds at the Berlin Radio Tower.
Visit us at Kurfürstendamm 160 in Berlin and be enchanted by the flair of our hotel with its 47 cosy hotel rooms and suites, and the myriad charms of the magnificent boulevard right outside your door. Browse our compelling offers and book your unique experience in a historic hotel in the middle of Berlin today.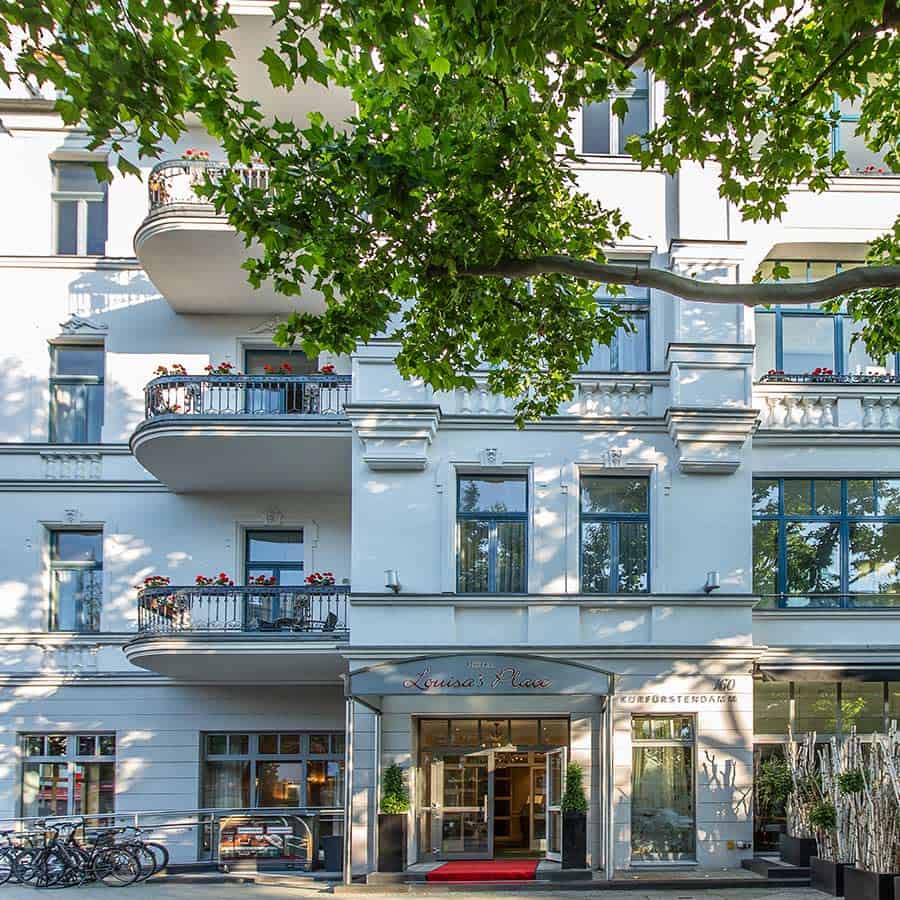 The perfect getaway
Berlin, Berlin, let's go to Berlin
Our boutique hotel on Kurfürstendamm in Berlin Charlottenburg is located in a historic building by Adenauerplatz in former West Berlin.
Thanks to the Adenauerplatz subway and bus stops right in front of our door, you can easily use Berlin's reasonable public transport system at any time. Only a few steps more will take you to the Charlottenburg S-Bahn station with connections to Berlin's main train station and Alexanderplatz, allowing you to reach all the sights from the Brandenburg Gate to the TV Tower in no time.
Wide sidewalks on both sides of the Ku'damm and colourful shop windows with exclusive displays invite you to linger at any time of year; in summer, enjoy an ice cream as you stroll in the shade of the wonderful old sycamore trees, or come admire the festive glow of a sea of lights stretching for 3km (!) at Christmastime.
To the right and left, there are numerous opportunities to sip a glass of wine as you watch the city folks hurrying by, and simply take a moment to let the metropolitan flair of Berlin soak in
Ah, Berlin, I think you're groovy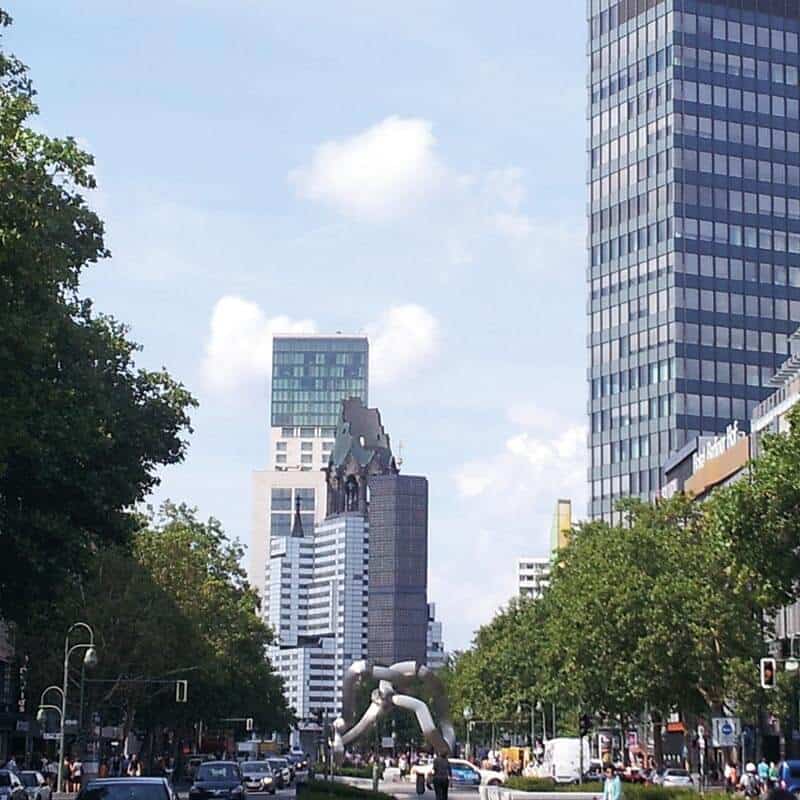 In the change of time
Homesick for Kurfürstendamm
At the time of the Cold War and the separation of East Berlin, it became known as the 'shop window of the West'. Not surprisingly, after the fall of the Berlin Wall on 09 November 1989, East Berliners flocked to their long-yearned-for Ku'damm.
To this day, Kurfürstendamm is one of the foremost addresses among German high streets. In the immediate vicinity of the magnificent boulevard, you will also find numerous cafés and restaurants in Charlottenburg and City West, as well as theatres and the German Opera, the Berlin Exhibition Grounds and the Olympic Stadium, and the famous Berlin Zoo. And much more, just a stone's throw away.
Originally laid out as a causeway through marshy terrain for the Prince Elector's (Kurfürst) horsemen to ride from the Berlin City Palace to the Grunewald hunting lodge,
Kurfürstendamm was developed into a boulevard along the lines of the Champs-Elysées in Paris.
By 1905, most of Kurfürstendamm had buildings lining it, and our hotel building, built as a grand residential and commercial building for upper middle-class residents, also dates from this time.By 1905, most of Kurfürstendamm had buildings lining it, and our hotel building, built as a grand residential and commercial building for upper middle-class residents, also dates from this time.
The 3.5 km long boulevard in the west of the capital was already Berlin's favourite promenade and entertainment mile in the imperial era and especially in the Golden '20s. Heavily damaged in the Second World War, the Kurfürstendamm enjoyed a renaissance in the 1950s and '60s following the reconstruction of Berlin.
Memorial Church
Memorial Church
2,5 km
Fairground
Fairground
3,2 km
Main Station
Main Station
6,2 km
Brandenburg Gate
Brandenb. Tor
6,5 km
More than Shop until you drop
Ku'damm A-Z: from Apple Store to Zoo
Our namesake Louise of Prussia would probably have loved today's Kurfürstendamm for shopping and strolling along.
From Armani, BVULGARI, CHANEL, Dior, Escada, Fillipa K, Gucchi, HERMÈS and KADEWE, Lancôme and Max Mara to Nike, Prada and Rolex to Vuitton, Wempe, Yves Saint Laurent and Zodig&Voltaire . … here you will find everything your shopping heart could possibly desire!
Less well-heeled shoppers also get their money's worth on Kurfürstendamm, and between Adenauerplatz and Wittenbergplatz there is more to discover:
From the Astor Lounge, Ampelmännchenshop and apple store to Curry Wurst 195 and the Hard Rock Café from Käthe Wohlfahrt, Kranzler Eck and KADEWE, Schaubühne, Steiff Store and Starbucks through the K.-Wilhelm Gedächtniskirche and Zoo – the Ku'damm is as varied as Berlin itself.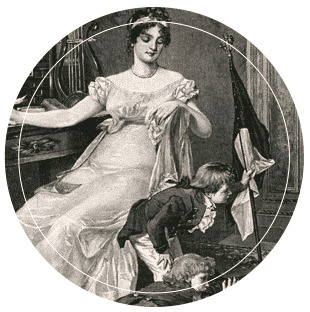 About Louise
Louise loved fashion & jewellery since her early youth and always knew what cosmopolitan women were wearing in Paris, Vienna, and London. As Queen of Prussia, she was always careful to keep up with the times in all matters. Accordingly, she was also admired as a fashion icon, and her way of wearing a neckerchief became an absolute trend.
To the capital on business
Tradeshow hotel in the centre of Berlin
Various tradeshows and congresses are held in our capital Berlin throughout the year.
Thanks to the central location of our hotel directly on Kurfürstendamm in City West, you are just a few minutes away from Berlin's exhibition grounds under the Radio Tower with adjacent City Cube, allowing you to prepare for your tradeshow or congress visit without having to factor in long commutes. During your stay, you can safely store your vehicle in the hotel's underground parking garage for a fee. Berlin's main train station is only 15 minutes away, Berlin-Brandenburg Airport just 30 minutes – ideal for quick arrivals and departures.
Berliners love their public tradeshows. Visiting them is an experience for the whole family and worth even repeated trips to the capital!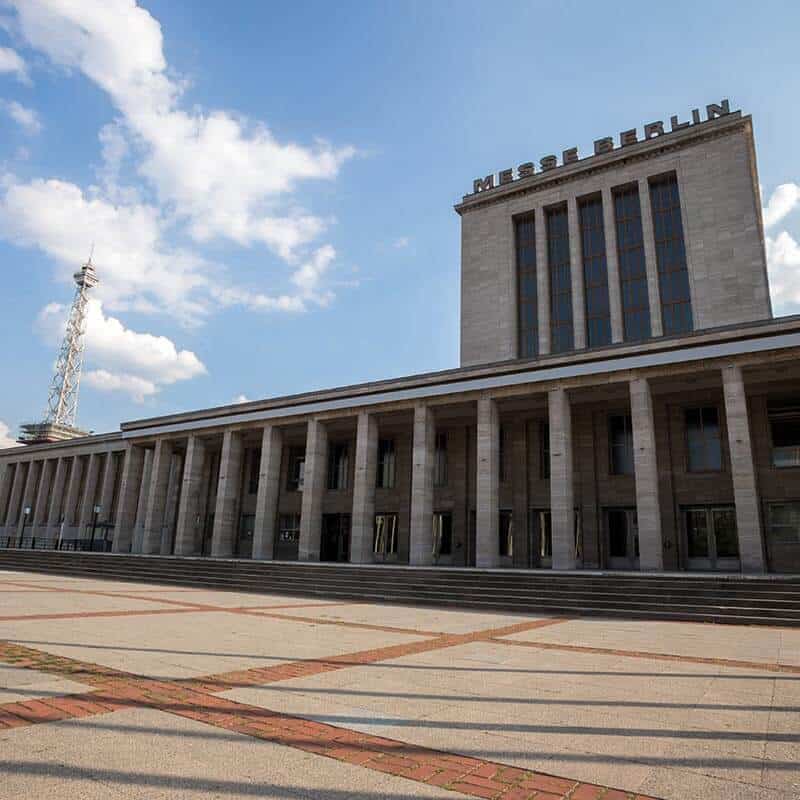 Berlin is always worth a trip
Our specials for you
You get to visit selected luxury boutiques exclusively and alone, during the day or in the evening after official opening hours.

From € 899,–

To visit Louisa's Place is to visit Berlin. Experience the Kurfürstendamm, one of the most famous boulevards in Europe.

From € 600,--

Enjoy the capital city of Berlin with kit and kaboodle. Countless attractions promise enough variety for your family.

From € 1.150,--

Get to know the capital Berlin on bike and discover sights from a different perspective.

From € 600,--
Your way to Louisa's Place
Louisa's Place
Ehret & Schimank GmbH
Kurfürstendamm 160
10709 Berlin
Tel: +49 30 631030
Fax: +49 30 63103 100
Email: [email protected]