Queen Louise of Prussia
Even today, more than 200 years after her death, she is considered an icon and pioneer of her time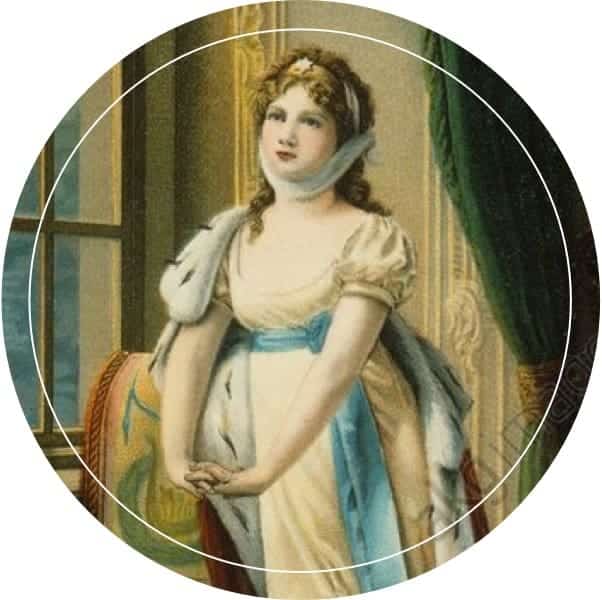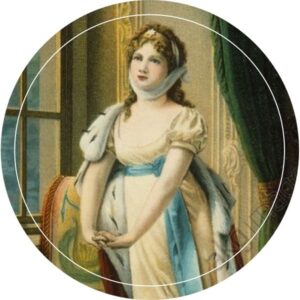 Queen Louise of Prussia – also called Louisa abroad during her lifetime – is the namesake of our establishment and her spirit can be felt throughout our hotel.
"Goodness is not always recognized, but that doesn't mean one should stop being good. This is and remains my principle."
We pay tribute to this extraordinary personality, the 'Queen of Hearts', as the namesake of our hotel. Be it in the form of our warm hospitality, our aspiration to offer all guests – whether on a long stay, family vacation, or business trip – a real home for a while, or in the form of small anecdotes that we like to tell you at special places in our building.
As the wife of King Frederick William III, she quickly assumed a prominent role in the social and political life of the time. With her special charm, her warm hospitality, her courage and her diplomatic skills, she managed to impress even the greatest politicians of the time – Napoleon and Tsar Alexander I – while at the same time being very close to the people and authentic to her people. This put Louise well ahead of her time – and to this day, she is deeply liked and revered for this.
Louise Auguste Wilhelmine Amalie Duchess of Mecklenburg-Strelitz (born March 10, 1776 in Hanover) grew up with her sisters at their grandmother's in Darmstadt following the early death of her mother and stepmother. As a young girl, Louise was considered lively, cheeky and also rebellious.
The young princess was the embodiment beauty, charm and grace, yet throughout her life she also strove to make up for the educational gaps that existed from her youth. She was interested in art, was passionate about dancing and playing the piano, liked to read a lot, later with a preference for contemporary literature. She corresponded with the Goethes and Heinrich von Kleist, among others.
You can find works by these poets and other interesting facts about Louise in our antique library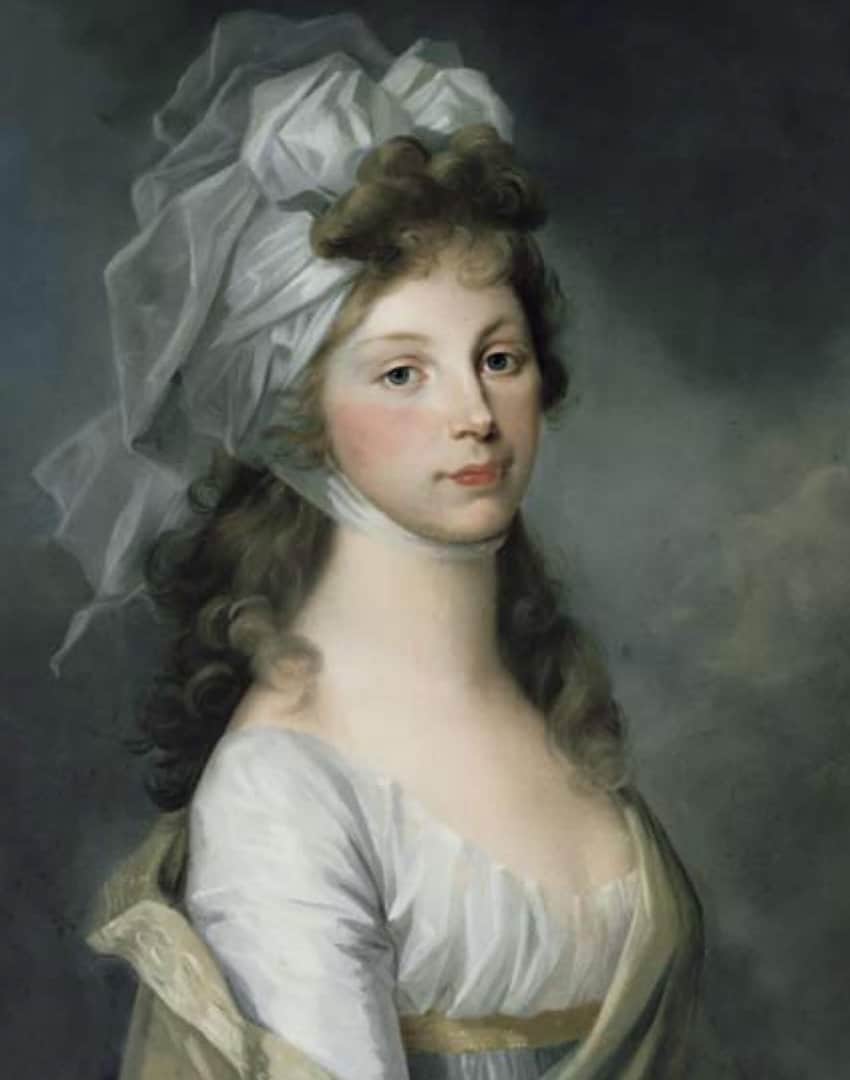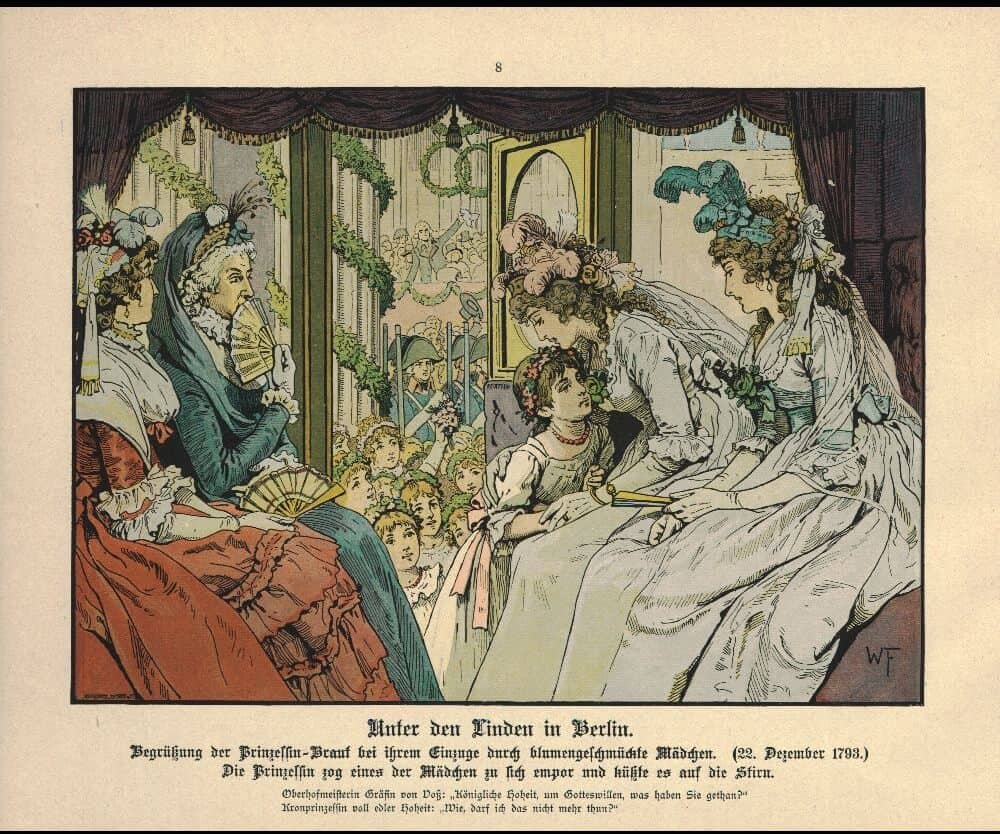 The most beautiful day of one's life
On a journey returning from Thuringia to Darmstadt in the spring of 1793, 17-year-old Louise met shy Crown Prince Frederick William III 'by chance' in Frankfurt. A kiss sealed the solemn moment in which the crown prince asked for the hand of the princess, who accepted with a 'heartfelt expression'. Following the engagement ceremony in Darmstadt in April, the marriage was scheduled for Christmas of the same year in Berlin.
A little girl dressed in white greeted the princess with a poem upon her arrival in Berlin, two days before the wedding. Louise was so moved that she spontaneously lifted the child into the carriage and kissed her. Louise refused to comprehend that this gesture was not befitting her high position as bride of the Crown Prince.
On December 24, 1793, the wedding took place in the festively decorated White Hall of the Berlin City Palace, with all the traditional ceremonial rites and with numerous guests in attendance. Even the usually rather introverted groom seemed cheerful and exuberant on this day. 'All of Berlin' was thrilled by the young couple's happiness and celebrated with them!
In fact, it was a double wedding, because two days later her younger sister Friederike married the brother of the Crown Prince.
If you are planning something special for the most beautiful day in your life, we will be happy to help you.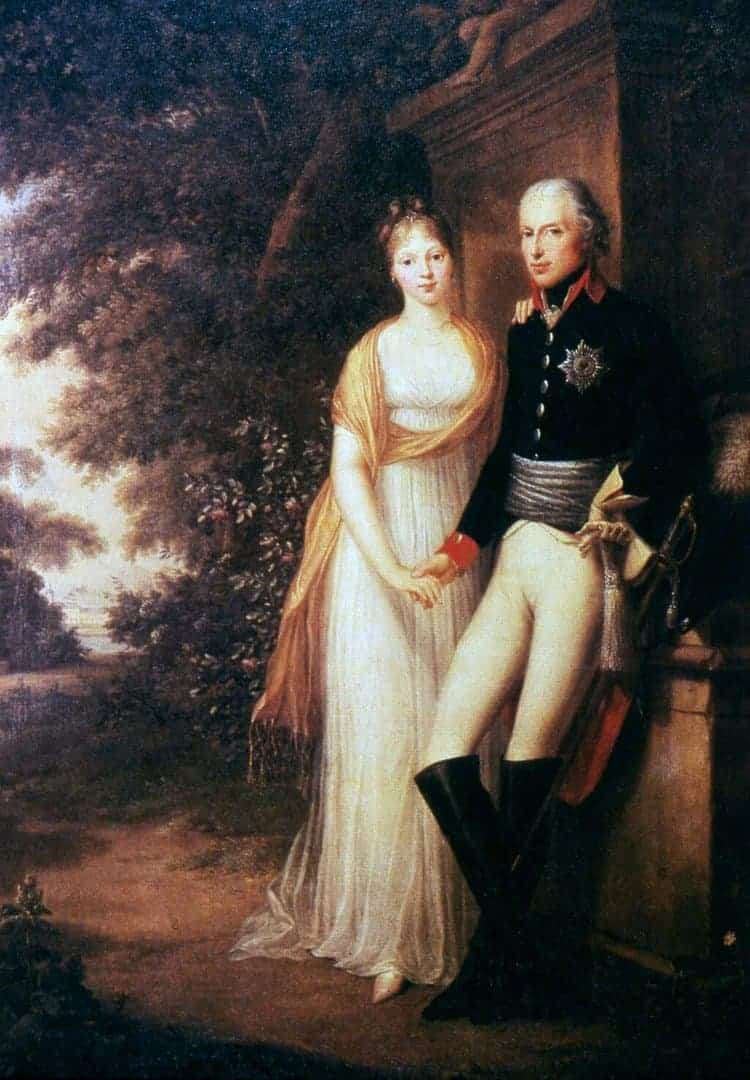 Our visitor recommendation:
Take a walk 'Unter den Linden', where you can marvel at today's replicas of the original buildings.
The two newlyweds lived in Berlin in adjacent buildings on 'Unter den Linden' boulevard: the Kronprinzenpalais (Crown Prince's Palace) and what later became known as the Prinzessinnenpalais (Princess's Palace). Louise and Frederick William were often seen strolling arm in arm along the boulevard outside their front door, without an entourage, which was well received by the people.
The young Crown Prince and Crown Princess was not fond of lavish court festivities, and when they were not in public, the Crown Prince actually rejected any kind of conventional formality or royal affectation. They led a very intimate marriage relationship, spoke of 'my husband' and 'my wife' and also addressed each other in the familiar form in public – a sensation for their time!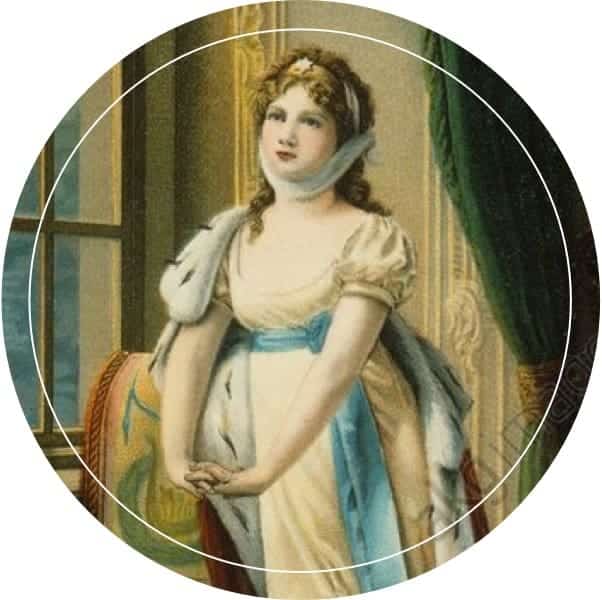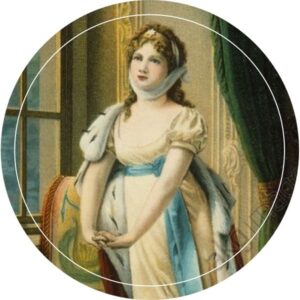 As the wife of King Frederick William III, Louise quickly assumed a prominent role in the social and political life of the time.
Louise's words are as
relevant today
as they were then …
'It is quite obvious that everything that happens is not the last and best that it will become and remain, but only the paving of the way to a better goal. After all, everything in the world is only transition! We must go through it!'
Louise's favourite places
Modesty was also reflected in the choice of family residences: Louise and her husband always preferred the Crown Prince's Palace to the Berlin City Palace.
After Frederick William III's accession to the throne in 1797, Louise became Queen of Prussia at the age of just 21. The beautiful and rather private Charlottenburg Palace, where the queen lived in the Early Classicist Winter Chambers built in 1796/1797, was one of Louise's absolute favourite places, along with its garden.
Even in their day, exotic-looking Peacock Island, located not far away in the Havel River, tempted visitors to linger away from the dusty capital on sunny days, and was a popular destination for the royal couple and their family.
Louise herself enjoyed spending the summer months with her family at her Paretz estate, not far from Potsdam. Here the king could get away from his state business and Louise found the peace and tranquillity she needed, especially during her numerous pregnancies.
Our visitor recommendation:
Follow in Queen Louise's footsteps
Destinations in Berlin and surroundings
In the Queen's footsteps
Queen Luise always spent cheerful summer days at Charlottenburg Palace.

Schloss Charlottenburg • Spandauer Damm 10 • 14059 Berlin

Peacock Island was one of the favourite places of Queen Luise and her family.

Pfaueninsel • Nikolskoer Weg • 14109 Berlin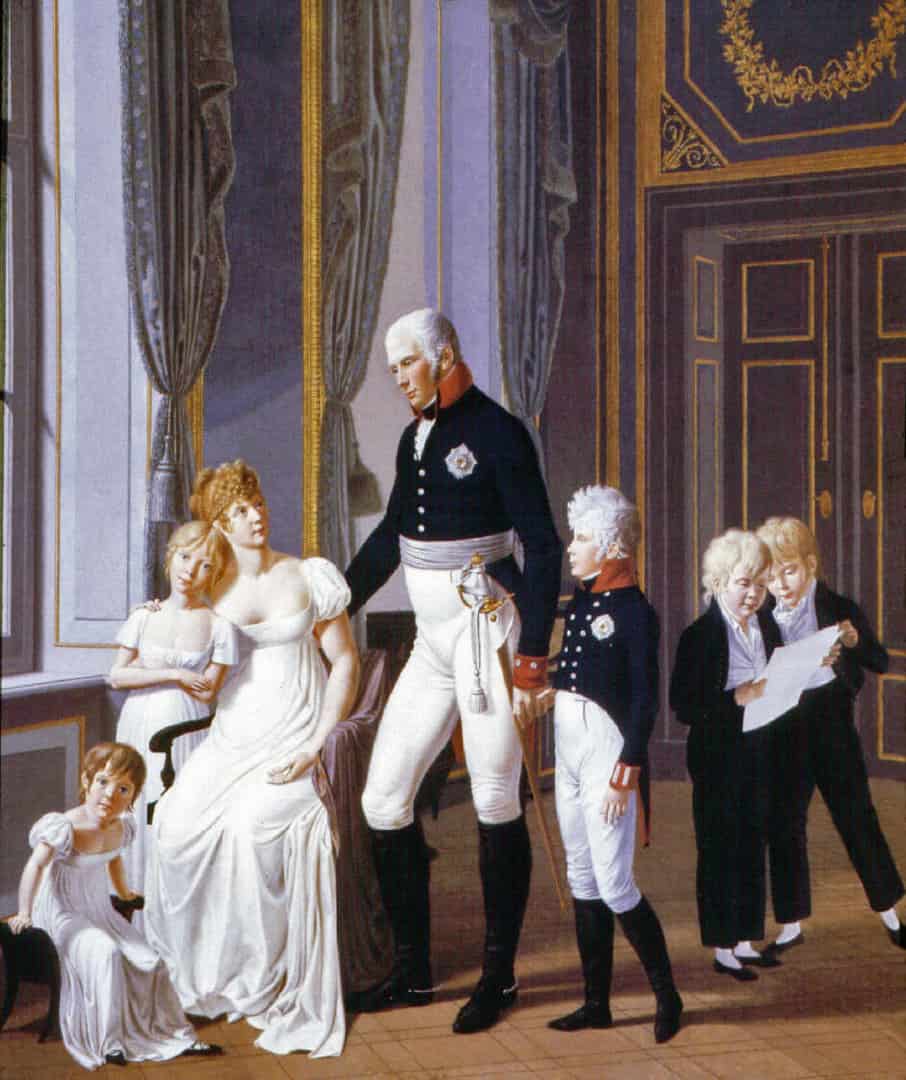 More than a wife and mother
Not only did she and her husband Frederick William have a harmonious and faithful marriage, Louise was also a loving mother who often took care of her children herself and personally took over their upbringing – an absolute novelty at a time when court employees usually took on this task. In the morning, she liked to drink several cups of chocolate in bed and read the newspaper while the children frolicked around her, then romp with them herself afterwards.
If you, too, would like to look after your children yourself, we invite you to browse our recommended destinations for families here
Over the years, the close bond between the monarch couple led to Louise becoming her husband's political advisor. Women participating at the political level was quite unthinkable at the time. But as Prussia searched for political allies in Russia, Louise contributed her charm and political skills and succeeded in winning Tsar Alexander I as a new friend for herself and her country.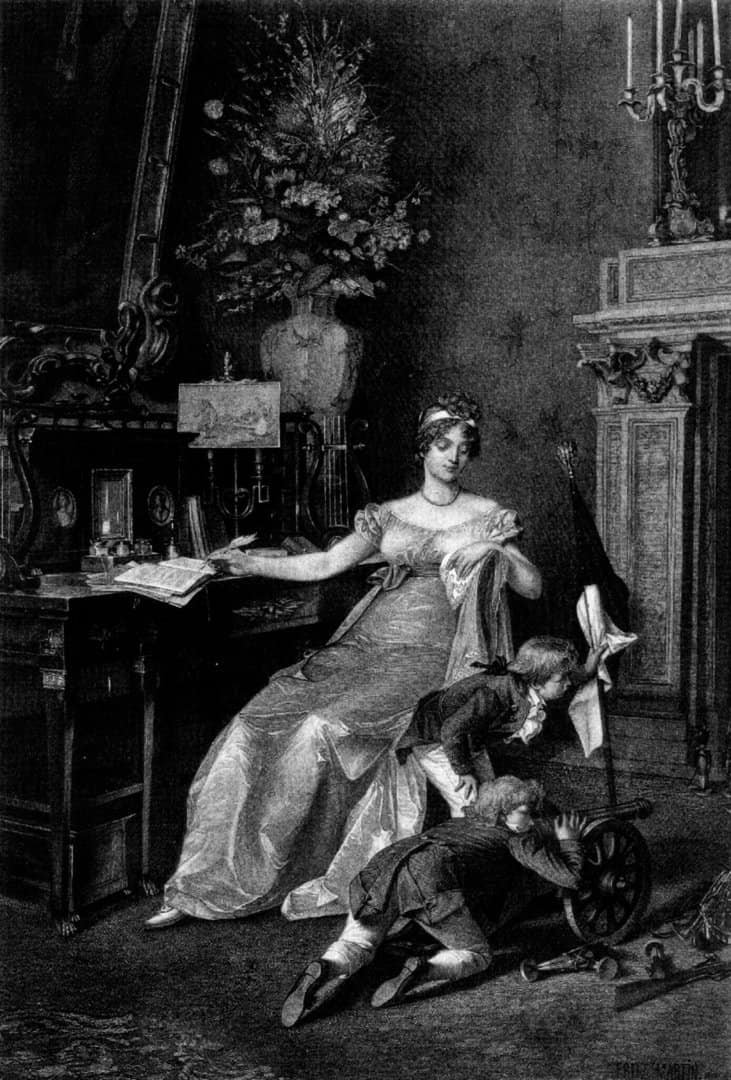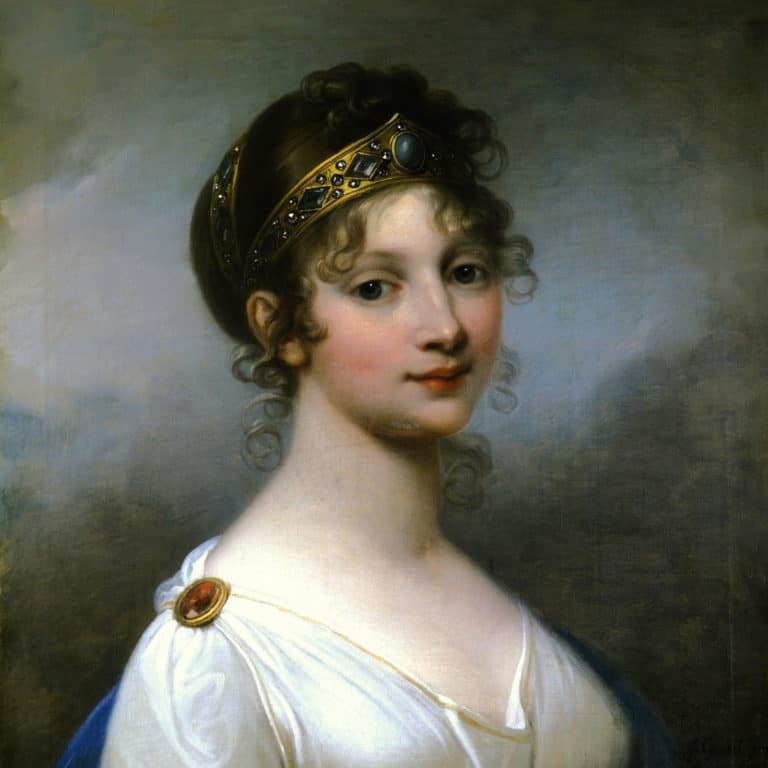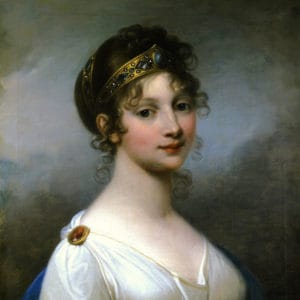 Through her special charm, her warm hospitality, her courage and her diplomatic skills, she managed to impress even the greatest politicians of the time
– Napoleon and Tsar Alexander I.
The Queen, who was living in exile at the time, was unable to prevent Prussia's defeat by France under Napoleon Bonaparte, whom Louise contemptuously called 'Nöppel'. When the peace was finally to be concluded in Tilsit in 1807, Louise arranged a meeting with Napoleon to personally ask for leniency for her stricken/suffering country.
Napoleon was impressed by Louise's personality at this important meeting, but he was not dissuaded from his political goals. Prussia lost half of its territory and was obliged to pay high reparations. The queen herself sold her opulent collection of jewellery and precious gifts to ease the heavy burden on the country and her people.
You can find more about this encounter and about Louise herself in our historical library
After gruelling years, an exhausting flight to the far northeast of the country, and personal strokes of fate, Louise's life seemed to settle down again with the return of the royal family to Berlin in December 1809.
However, the privations of recent years and earlier illnesses had taken their toll on the queen's health. In the summer of 1810, she travelled to Hohenzieritz Castle, her father's country estate, to recuperate. Just a few weeks after her arrival, however, her condition deteriorated to such an extent that her family members, who hastily rushed to her bedside, could only say goodbye to their beloved wife and mother. Queen Louise of Prussia died of pneumonia on July 19, 1810, at the age of only 34, plunging her country into deep mourning.
After being transferred from Mecklenburg via Gransee to Berlin, Louise found her final resting place first in Berlin Cathedral, then in a mausoleum built with the collaboration of Karl Friedrich Schinkel in the park of Charlottenburg Palace. Her husband Frederick William III was buried in the same place in 1840.The mausoleum developed into a national place of pilgrimage, a key destination in the cult of reverence that has arisen around Louise. Many streets, squares and public institutions were named after her.
Our visitor recommendation:
Her mausoleum is located just 10 minutes away in the beautiful garden of Charlottenburg Palace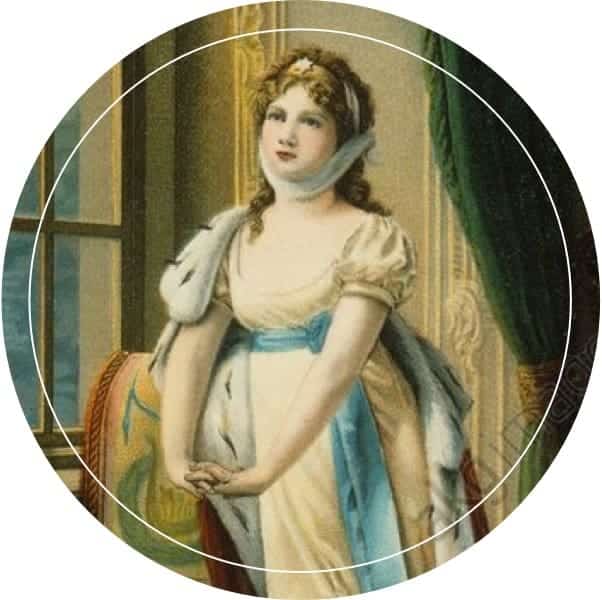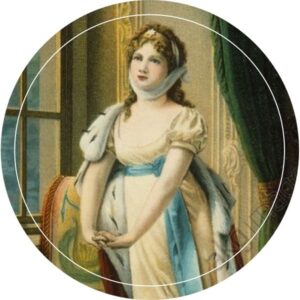 Her prominent role at the time continued to have an effect beyond her death in her continuing popularity, which endures to this day, more than 200 years after her death – and not just at Louisa's Place….