Grand Suite
The name says it all – these are some of our most spacious suites.
Suites with greater individuality
Grand Suite
The name says it all – these are some of our most spacious suites. Generously sized at 75sqm (807sqft), our Grand Suites offer you a spacious sanctuary in the capital. Up to 5 people can stay here, and comfortably distributed to two rooms. A desk, a cosy dining area by the kitchen, ample storage space for luggage, and one or even two spacious balconies that provide additional retreats and invite you to linger are just some of the advantages of the Grand Suites.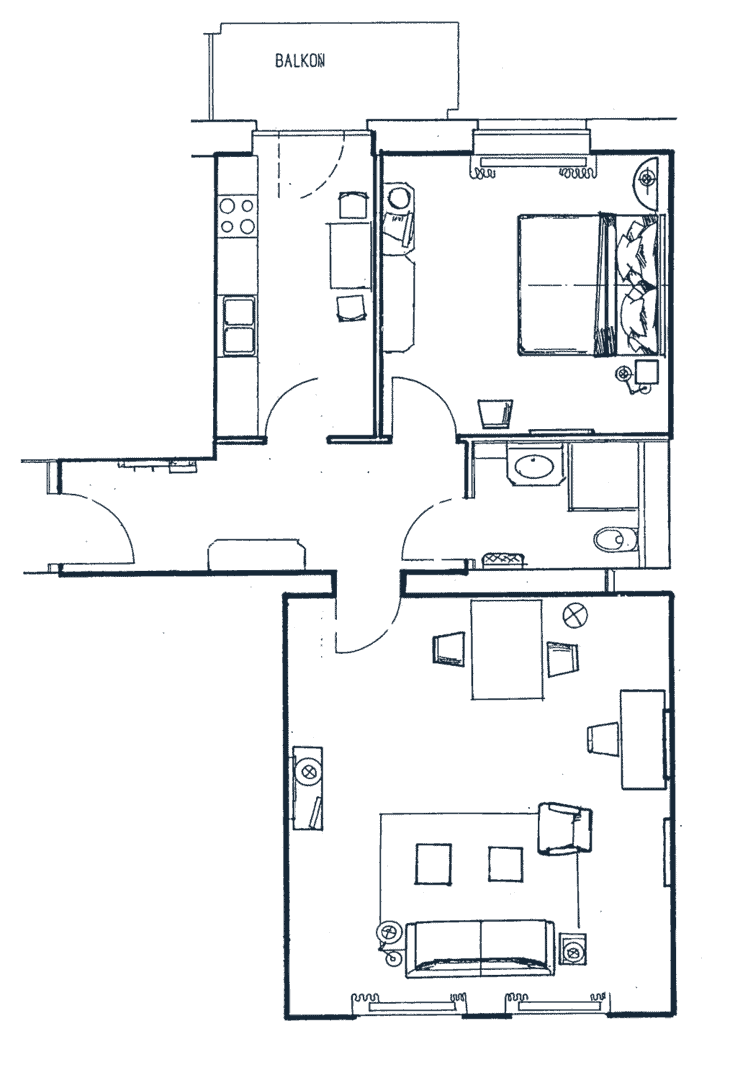 example floor plan
Generous extras
May it also be a little more?
A meeting on the sofa, space for additional small or larger guests, a walk-in closet for Ku'damm shopping, separate quarters for the snorers, a business centre in the room, a time-out zone for moody teenagers ...
Gemütliches rotes Sofa mit Kissen und Decke und Flatscreen in der Louisa's Place Grand Suite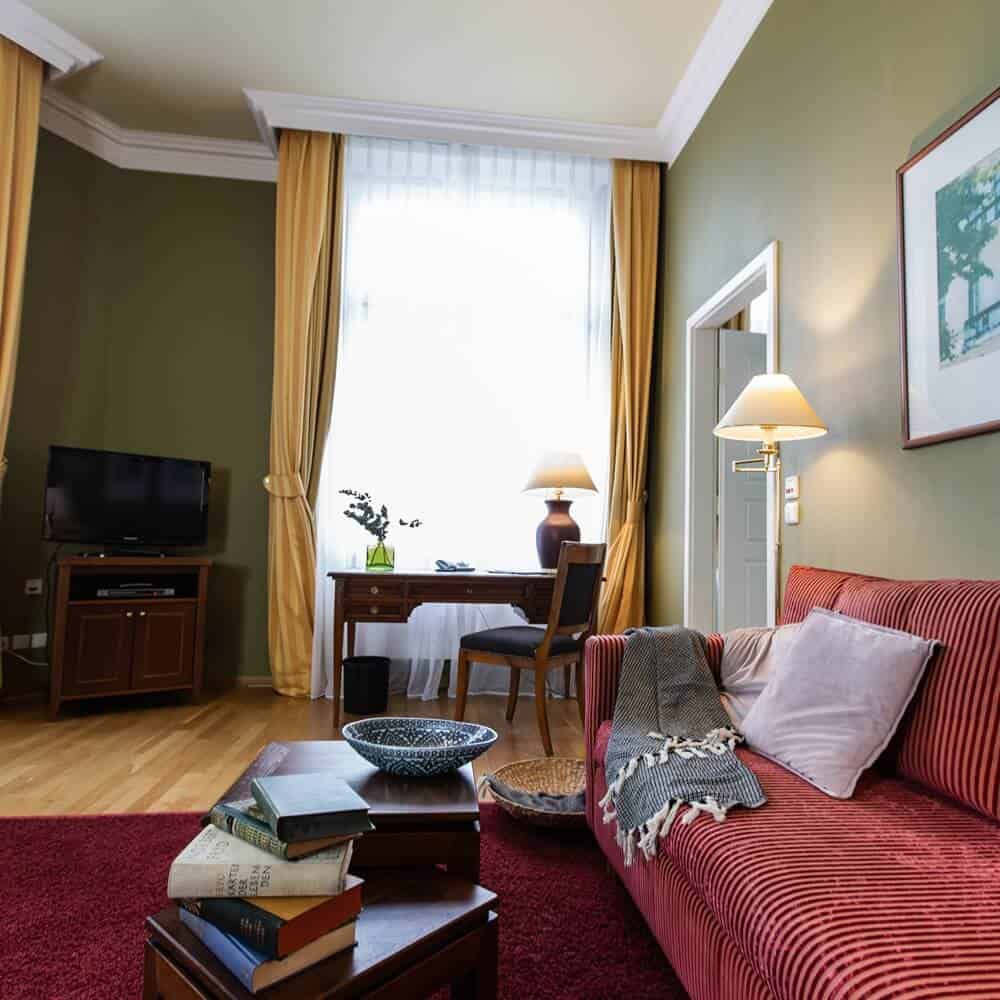 Wasserflasche und kleine Vase mit Blumen auf einem hölzernen Wohnzimmertisch in der Grand Suite des Louisa's Place Hotel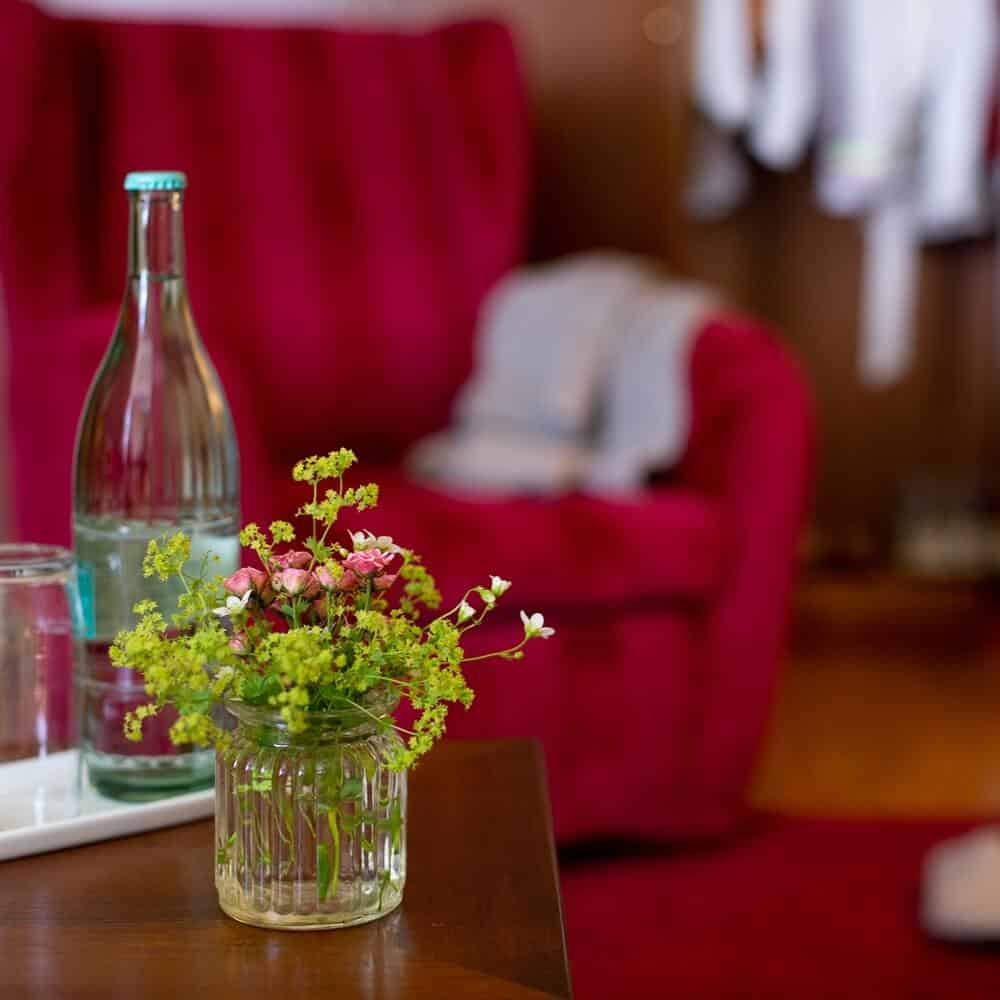 There are many reasons you might want more space and should definitely book a Grand Suite. Especially when, besides the living room, bedroom, kitchen and bathroom, it has an extra room for all the above mentioned eventualities and more.
Feel free to coordinate with us to lock in this category when you book.
Another bonbon
Meeting place kitchen
It's not just in the living area that the Grand Suite offers added quality with an extra room. In some suites, the fully equipped kitchen has its own separate room as well. With more work, counter, and storage space and a table and chairs, it's bound to become the central hangout for your travel party. High quality crockery, kitchen utensils, a ceramic stove with 4 hotplates and an oven, a refrigerator with freezer, a dishwasher, coffee maker, an electric kettle and on request a microwave and toaster are all at your disposal.
Ansicht der vollausgestatteten Küche mit gedecktem Tisch und Weinglas in der Grand Suite im Louisa's Place Hotel am Kudamm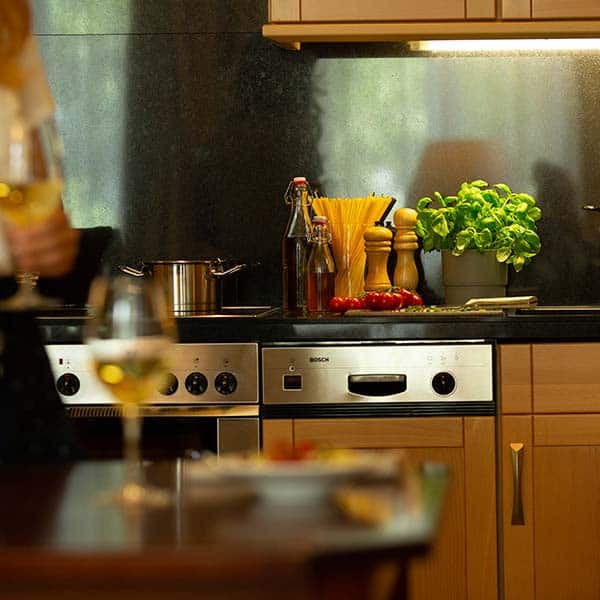 Berlin is always worth a trip
Our specials
You get to visit selected luxury boutiques exclusively and alone, during the day or in the evening after official opening hours.

From € 899,–

Enjoy the capital city of Berlin with kit and kaboodle. Countless attractions promise enough variety for your family.

From € 1.150,--